All things green, leafy and otherwise plant-like have been trending for a good few years now, and so far, it looks like it's here to stay! You don't have to go big to bring botanicals into your home, however. Sometimes, a little can go a long way. Here are some great ideas to accessorize with botanicals that won't break the bank!
1. Leavy greens and stems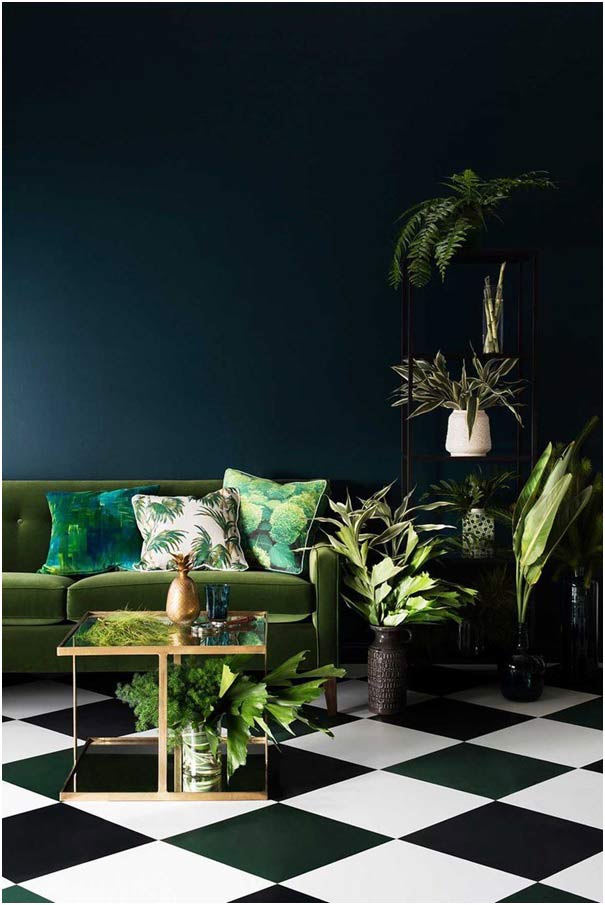 This might seem obvious, but simply add a few plants to your interior,andyou're bang on trend! If you are more prone to kill a houseplant, then just stick a large leaf in a vase with water. You will be surprised at how long a delicious monster or philodendron leaf will last. Artificial plants have also come a long way since their plastic inception, so if your fingers are many things but not green, then go for a realistic imitation.
2. Pretty Prints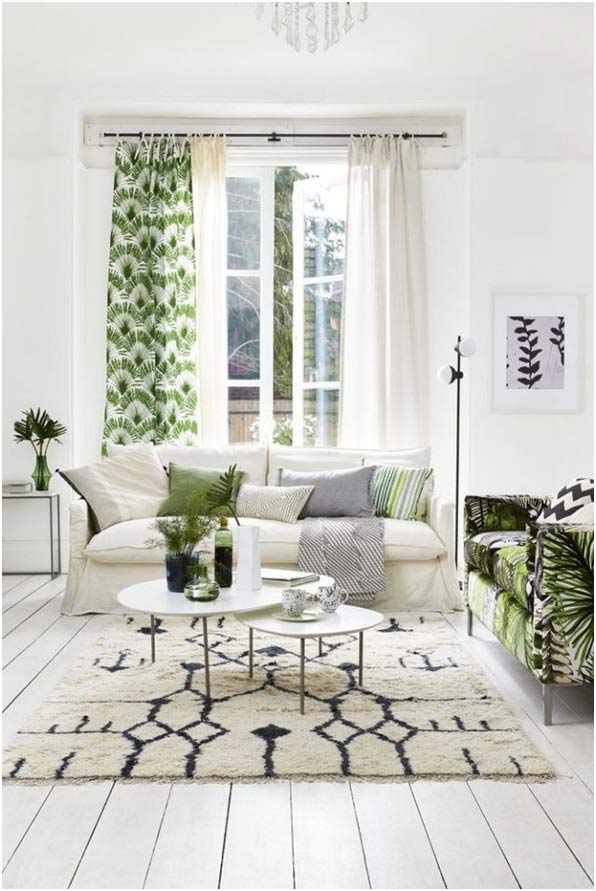 Scatter cushions are a fantastic way to quickly add colour and pattern to any setting. Choose cushions with tropical leaves or loose rugs with bright botanical prints.Play around with a variety of prints to add interest to a room. To prevent different prints from competing for attention, balance them with plain colours and white, grey or black.
3. Wall Flowers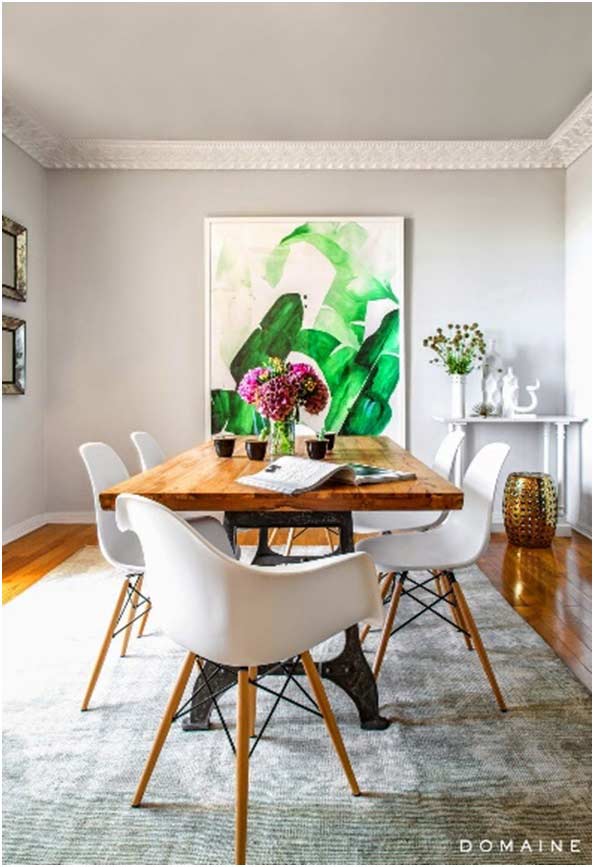 There are some beautiful and affordable canvass prints that can turn any room into a lush haven. Hang one large print on a wall for a striking focal or create a gallery wall with a collection of prints from different sources: dried leaves, photos, prints and drawings.
4. Go Bigger with Wallpaper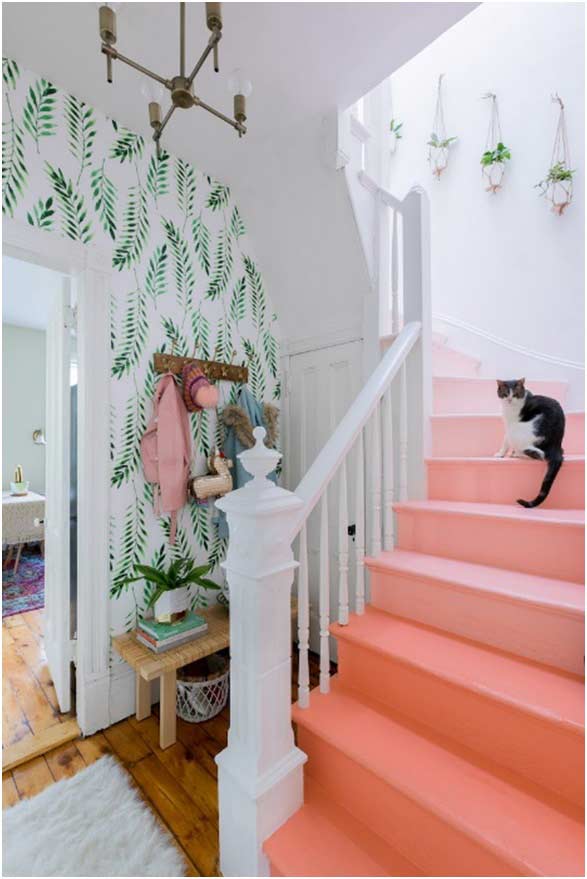 Dedicate an entire wall to beautiful greenery by installing a printed wallpaper! Keep things simple with a small print or add some drama with a bold, large-scale botanical print. When displaying furniture or artwork against your printed botanical wall, keep the colours complimentary and avoid other busy patterns that may compete with the wallpaper. Orange tones, reds and pink go especially well with green to create a feminine look. And to make the room more masculine, choose teal or midnight blue.
5. Green Display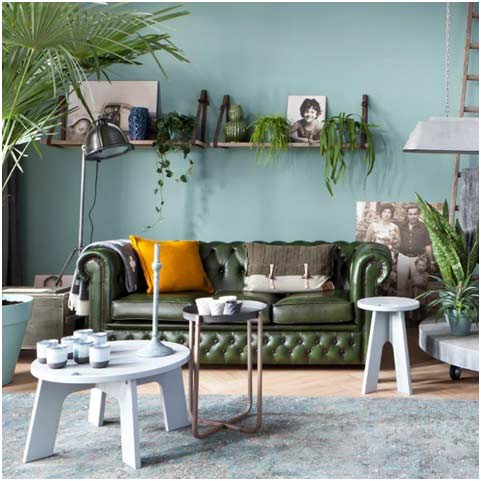 A group of vases and vessels on a shelf are a beautiful way to display a collection. Ensure that you have pieces with varying heights and styles for a curated look. You can also combine a variety of different objects like prints, photos, plants and vessels to add personality to your shelves.
6. Emerald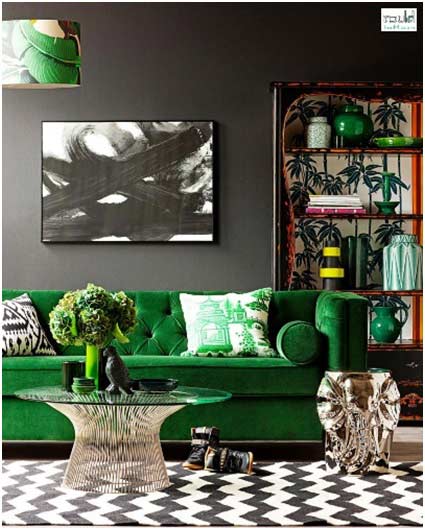 Choose green-coloured accessories to compliment your botanical theme. Paint a wall in your favourite green hue or cover a sofa in rich emerald green velvet for maximum effect. Once you have this large piece in place, echo the colour in other areas of the room with small splashes of green like a vase or art object. By adding a busy print in the back of an open cabinet orshelving unit, you can create a beautiful botanical backdrop to display books or objects against.
7. Crockery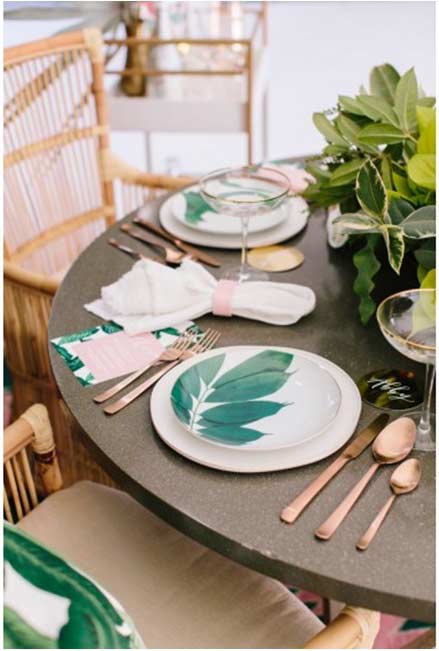 Bring pretty botanical prints into use every day with crockery. Use delicately decorated platters for dishes or use a printed or hand-painted set with other plain crockery as a focal on your dining table. You can even build up a curated collection over time by mixing and matching plates with a common theme or colour.
You can also dress your table for a forest affair with green.A tablecloth with botanicals provides a beautiful setting for plain plates, while green cutglass stemwareadd a fun twist.
PRO TIPS:
Really show off your plants by placing them against a dark wall - green is beautifully offset against a darker background.
Cacti are quickly overtaking large leaves as the botanical of choice.
Don't be afraid to mix prints. If you vary the scale, you can successfully use different prints together.
Green pairs particularly well with copper and gold items.
Add warmth and texture to your green and botanical prints with wood. Bamboo and cane are especially great for botanical-inspired interiors.